Customised Systems
Turnkey System Solutions using AIM's and
COTS Avionics Hardware and Software Components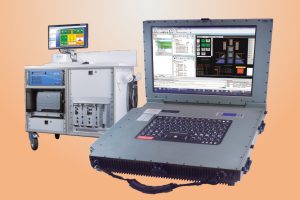 Specifications
Related Products
Contact
Specifications
Using AIM's Avionics modules and Databus Analyser/ParaView Software plus Industry Standard, COTS hardware and software components as building blocks, AIM delivers complete System Solutions.
Our flagship system is the High Level Databus Analyser (HLBA) which can simulate, monitor, display, control and record parameters from multiple MIL-STD-1553/STANAG3910 buses and ARINC429/AFDX channels simultaneously.
Multi stream, network based High Level Databus Analysers (HLBA)
Ruggedised Aircraft Ground Equipment (AGE)
Special to Type Test Equipment (STTE)
Real Time Data Acquisition, Display and Processing Systems (PADS and DAS)
MIL-STD-1760 Test Sets (WTS)
Fibre Optical, MIL-STD-1553 Bus/Stub Extension Systems (FOMIS)
RT Tester – AFDX®/ARINC664P7 Communication, Test, Analysis & Simulation Station
The Systems Group provides full documentation, design reviews, project management, installation, training and long-term support contracts to ensure your success.
Related Products
Contact

If you are already registered please log in. Alternatively, please create your account!
Forgot password?

The file you are trying to access requires you to be logged in as a registered user. Registration is free, create your account!