AIM high for Quality
AIM delivers high quality and highly reliable products in accordance with the latest standards and directives like RoHS/WEEE, REACH, EMC, Safety, Low Voltage, etc.
On demand, we provide our modules with extended temperature range and/or conformal coating. As part of the AIM solution, responsive and quality service and support is provided before and after any product deliveries.
Our products are designed and manufactured to the highest quality and our procedures certified to ISO9001:2015 and in accordance with AS9100 Rev. D respectively EN9100:2018. Our quality system is our management tool in order to optimize and continuously improve relevant quality processes and guidelines within AIM. Our goal is to be the best in all areas!
> Get the latest AIM ISO 9001 certificate here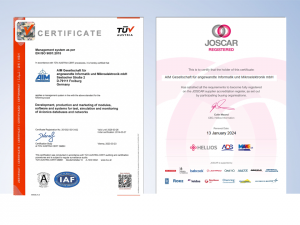 Quality is our AIM
Customer satisfaction is our aim with an obligation to fulfill the agreed customer requirements within the company and between our employees in conjunction with our suppliers. Quality means the fulfillment of the requirements including safety, reliability, durability as well as maintainability and serviceability at competitive market prices.
With the development of quality oriented innovations and using modern technologies, improved materials and processes, our goal is to maintain and expand our market leadership position. Our quality policy ensures the efficiency of all internal operations.
Taking care of the Environment
We consider the effect of all our manufacturing activities with respect to the environment and are committed to minimize any adverse or detrimental effects.
The use of dangerous, critical environmental components or other harmful or hazardous materials are excluded from AIM's products hence eliminating any risk or danger to the environment or users.
A "COSHH Statement" (Control of Substances Hazardous to Health) can be provided upon request.
Further QM/QA issues
If you would like a copy of our Quality Manual or if you have any related quality questions please feel free and contact us by email: quality@aim-online.com .
Get the latest AIM ISO 9001 certificate here: Download