Fibre Channel Modules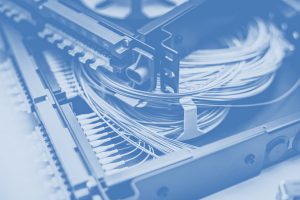 Fibre Channel Cards with a Difference
AIM's Fibre Channel test, simulation and analysis modules use our field proven Common Core hardware design giving you the best performance, best feature set and highest functional integration on the market. The use of SoC (System on Chip) based core designs with one dual core RISC processor per port, massive and scalable DDR3 memory and IRIG-B time encoder/decoder functions are standard.
The new ultra high performance intelligent 4-lane PCIe 2.0 interface modules offer 2 ports with full function test, simulation, monitoring and analyzer functions for Fibre Channel networks. The dual core processor provides onboard processing and data transfer capabilities for the most demanding Fibre Channel applications including upper layer protocol support done on board level.
Large and high data throughput DDR3 RAM is accessible for the onboard processor as is a high performance FPGA implementing the customized Fibre Channel interfaces enabling the board to analyze incoming and modify outgoing data in real time. Each module provides 2 Fibre Channel compliant full duplex ports, implementing the full link level services. SFP cages make it suitable for different media types as optical or electrical network technologies.
Ports operate either in Traffic Simulator or Analyzer/Monitor mode with support for port related Frame Statistics. Sophisticated packet capturing mechanism and monitoring features are complimented with powerful triggering and filtering capabilities.
Supported Fibre Channel Network Topologies include:
• Point-to-Point
• Tap Analyzer (Inline Monitor Mode)
• Switched Fabric
The modules provide Fibre Channel compliant Interface Logic with analyzer function which supports the Link service Classes 1, 2 and 3. All Link Level Parameters for the Fibre Channel communication are user-definable.
Each port provides 4GByte of low power DDR3 RAM, summarizing to 8GB for the complete module. These huge memory resources support large receive buffers and allow complex transmit scenarios onboard.
Each module is delivered with a Board Support Package (BSP) containing the onboard driver software, a full Application Programming Interface (API) and detailed getting started and programming guides. Powerful PBA.pro databus test and analysis software is optionally available for all our Fibre Channel modules.
The PBA.pro is a framework focusing on Test, Simulation and Integration under Windows and Linux offering ARINC818, FC-AE-ASM, or FC-AE-RDMA Analyzer functionality including decoding of Payload Data.
Available Fibre Channel Interfaces
Common Features of Fibre Channel Cards
Simulation and Monitoring of FC-2 compliant network traffic for data rates up to 4GFC
Support of ARINC818, FC-AE-RDMA and FC-AE-ASM Upper Layer Protocols (ULP)
Onboard IRIG-B Time Encoder and Decoder with 10ns resolution for Time stamping
4 Trigger Inputs and 4 Trigger Outputs
Network TAP functionality for analyzing traffic in Real-Time and inline between 2 attached FC Ports
Fibre Channel Modules
1 or 2 Port Fibre Channel Interface with up to 4GFC (fully software configurable)
PCIe2.0 (4x) host interface
1 Dual-Core processor per Port
4 GByte DDR3 RAM per Port
SFP Frontend (optical or electrical)
Databus Test and Analysis Software
Looking for Fiber Channel Analyzer? The PBA.pro-FC component handles single or multiple Fibre Channel resources providing access to all Capture and Send Ports with Network Databus Analyzer
functions and Upper Layer Protocol support.
Special Features
FC2 and ULP traffic Simulation for ARINC818, FC-AE-RDMA, and FC-AE-ASM
Realtime Traffic Visualization and Capturing
Decoding of captured Frames of FC1, FC2 and FC4 Layers
Extended ULP Message Decoding (e.g. Decoding and Display of Video Images in
ARINC818 ULP Mode)
Flexible Frame Generation with full Control over all FC Frame Bytes and Parameters 
 (e.g. direct Setup of Video Image Transmission in ARINC818 ULP Mode)
Database Manager Component to support Engineering Unit Conversion
Application Programming Interface for C/C++ and LabView as well as Driver Software Support for Windows and LINUX included.