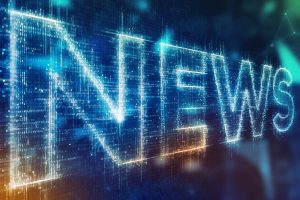 June 2020 aimnewsletters
E-Newsletter - June 2020
AIM News – June 2020!
AIM introduces XMC Card for RS485 Serial Interface
June 2020 post
Did You Know
Versatile XMC Card for RS485 Serial Interfaces:
AIM's brand new RS485 Serial Interface is a versatile XMC card with 12 independent channels designed for handling a customer specific application such as aircraft flight and engine control systems utilizing proprietary bus protocols.
Features include a COTS RS485 transceiver frontend capable of full and half duplex operation at data rates up to 10 MBPS.
This PCIe based hardware platform has an FPGA, two ARM processors and memory to support custom appliactions with specific bus protocols and data encoding variants implemented by simple firmware loads to the onboard FPGA and ARM processors.
One such custom application is the public 'Engine Area Distributed Interconnect Network' (EADIN), a 'proposed serial communication bus' of the Distributed Engine Control Working Group > (DECWG)
An IRIG-B time stamping capability covers typical synchronization needs in test and simulation environment. A software device driver and API support for Windows and LINUX platforms address software requirements for test and simulation applications.
For more information and pricing, > please contact your local AIM office or a Representative near you.
June 2020 aimnewsletters
E-Newsletter May 2020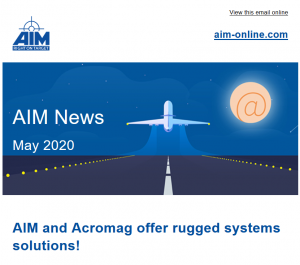 AIM News – May 2020!
AIM and Acromag offer rugged systems solutions!

PANAIR represents AIM for Avionics Test in Brazil
May 2020 pressreleases
AIM and Acromag offer rugged systems solutions!
AIM have teamed with Acromag to offer turnkey solutions for rugged
systems that demand high performance computing
and avionics databus communication capability.
May 2020 editorialfeatures
Solving Cyber Security on Avionics Data Buses
The need for Cyber Security is well-known, more than ever, and affects everyone's daily life…..
March 2020 post
Important Note for all Customers and Sales Partners
In view of the COVID-19 situation, AIM will close our offices in Europe over the Easter holiday period for two weeks: Monday 6th April until Friday 17th April
2020.
We will return with full services on Monday 20th April 2020. Thank you.  
March 2020 editorialfeatures
Testing MIL-STD-1553 with AS4111-AS4114
For almost the last half century MIL-STD-1553 has been widely used as the defense industry's…..
December 2019 editorialfeatures
JUST IN REAL TIME
Hardware in the loop testing systems generally require a realtime capability to fulfill test and simulation requirements….
September 2019 editorialfeatures
Compliance Testing Tools
A systems approach to the compliance testing of ARINC664 end systems and….